Works reliably even at 450 °C
Industrial oven engineering: Free-running fan made of robust materials withstands aggressive media and works with low vibration
For the most uniform circulation of hot air possible, so-called free-running fans are used in industrial oven construction and in the food processing industry. They can be installed directly in the oven by means of a mounting plate.

Especially in baking technology, these free-running fans have to withstand extreme temperatures and high degrees of humidity. If this is only possible to a limited extent, there is a risk of components corroding or deforming; the resulting imbalance can also damage the motor bearings and, in the worst case, lead to failure of the unit.
To ensure continuous operation without complications, Karl Klein Ventilatorenbau GmbH has therefore developed a free-running product range that is particularly robust and heat-resistant (Fig. 1). The use of corrosion-resistant, heat-resistant steels for all media-contacting parts plays a key role here.
This enables the system to operate without complications at temperatures up to 450 °C and even withstand aggressive cleaning agents.
The stainless steel design and the specially developed temperature barrier also significantly extend the service life of the fan.
Due to the design adapted to the respective application, the fans also operate without malfunctions and with minimized vibration.
During the baking process in the oven, it must be ensured that an equal amount of heat is supplied to the goods on the lowest shelf as to those on the highest.
The use of free-running fans is particularly suitable for this because they are space-saving and can distribute the air masses evenly and over a large area. This means that they require little installation space and no additional air guiding devices that would be costly to install.
Such free-running fans are often exposed to hot and humid media in the oven, which makes the resistance of the units a key challenge, for example through finding the most clever choice of materials. However, process fans made of conventional (stainless) steels are unsuitable for use in industrial oven construction or in baking technology because they corrode quickly or are at risk of metallic grain decay at over 400 °C.
In addition, basic carbon steels and stainless steels do not have the appropriate creep resistance and cannot withstand the constant exposure to heat. Insufficient impeller strength therefore often leads to deformations; the resulting imbalance causes vibrations that can ultimately lead to the destruction of the motor bearing and unwanted production downtime.
Special solutions for media temperatures of up to 600 °C
We therefore manufacture your free-running fans in heat-resistant - so-called high-temperature - steels. These can withstand temperatures of up to 450 °C as well as aggressive media such as any cleaning agents, reducing wear to a minimum; special fans for media temperatures of up to 600 °C are also available on request. Stainless steel is used for moisture protection, which considerably extends the service life of our industrial fans.
The fan also works with a temperature barrier, which is individually designed depending on the situation and customer requirements. This safety barrier is a spacer together with a cooling vane, which is placed between the motor and the flange plate of the fan section. In this process, cool ambient air is supplied to the motor's A-bearing shield with the help of a strong spacer construction, a small fan impeller optimized especially for this application, and a sophisticated air guiding device.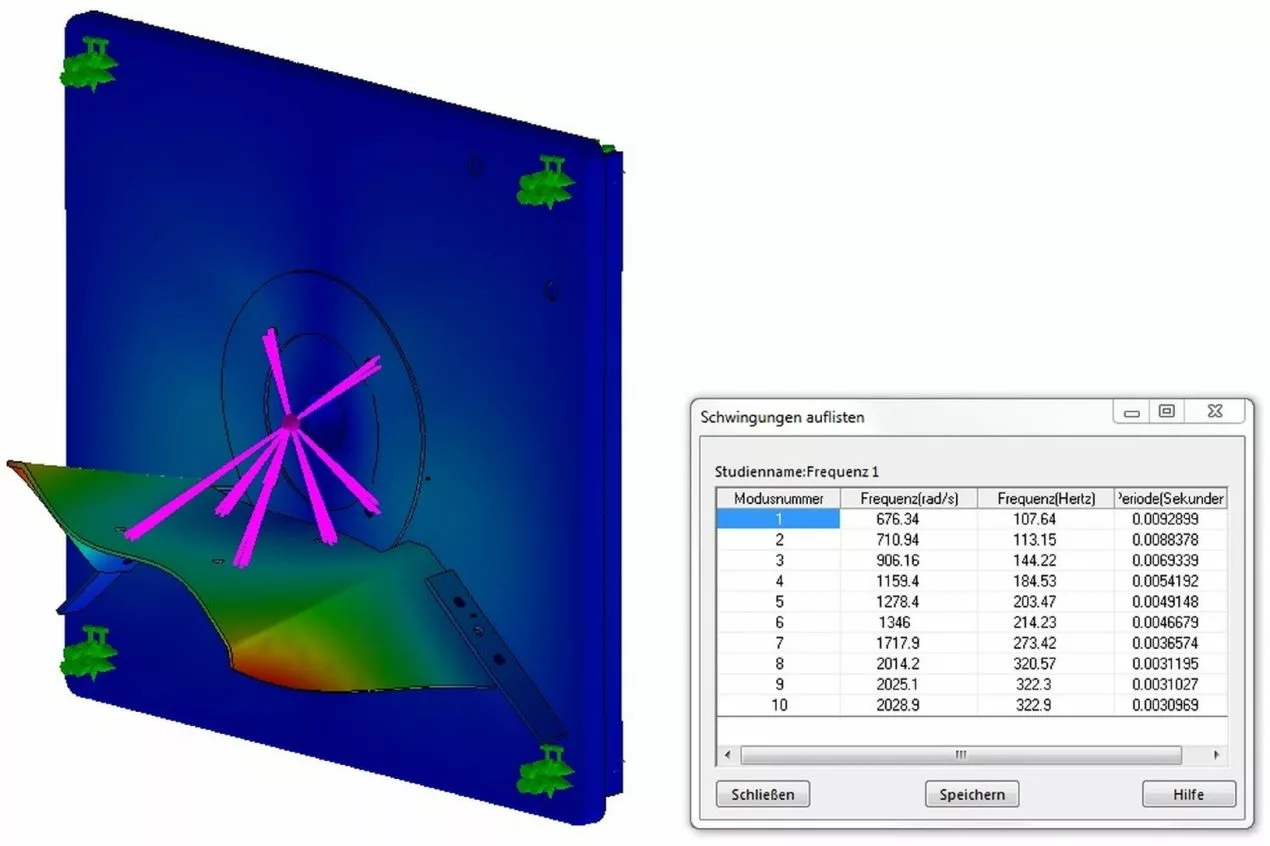 This minimizes heat transfer from the mounting plate to the motor, ensuring very efficient cooling of the motor bearings. This circumstance is enormously important, as well-cooled motors are a prerequisite for long service lives. If the motor bearing is 15 degrees too warm, for example, the service life is reduced by half.
Especially during continuous operation, the motors are therefore protected by the temperature barrier; the ongoing operation can be monitored by appropriate monitoring of the rolling element bearing temperature.
To ensure this, FEM calculations for strength and deformation tests are performed on the same mandatory basis as CFD calculations for optimizing the flow conditions and the aerodynamic efficiency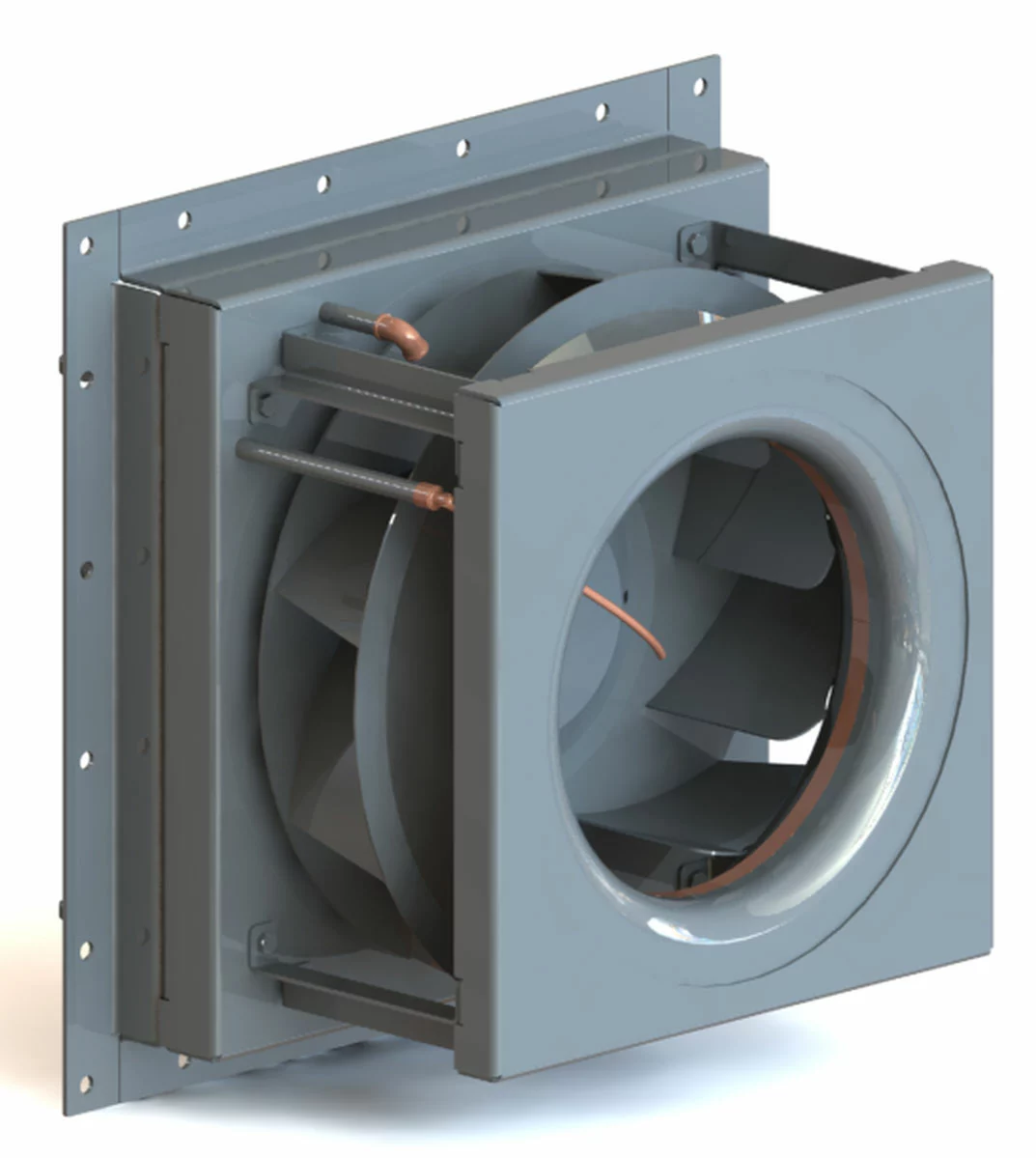 Meanwhile, the optimal tuning of the impeller and integrated inlet nozzle is carried out using CFD simulations. This ensures a uniform, low-vortex flow, which is a prerequisite for minimal noise development (Fig. 3).
This is particularly relevant because, unlike other types of fans, free-running fans do not have a spiral housing on which noise-reducing components such as built-in filters or silencers can be mounted.
It is therefore all the more important that the air drawn in does not have to flow over any sharp edges. Additional noise generation can thus be avoided - which is an aspect that should not be underestimated, especially with regard to noise protection at work and for residents.
Optional explosion protection
Karl Klein develops customized free-running fans by taking into account relevant criteria such as installation dimensions, medium temperature and material selection.
We are therefore also able to manufacture fans using FDA-compliant materials (for example, special steels, sealing materials or lubricants) for use in the food industry or to certify them in accordance with the ATEX Explosion Protection Directive.
It should be noted, however, that only temperatures from -20 °C to a maximum of 60 °C are permissible; this restriction must be observed for all ATEX fans of this type.
If this is the case, we use a copper-steel material combination to manufacture the process fan. In a hypothetical case, no spark will be generated if the impeller, which is made of steel, rubs against the copper inlet nozzle.